This month's blog comes to us from our Healthy Homes Program Manager, Yorelly!
June is National Healthy Homes Month! The City of Kankakee's Economic and Community Development Agency (ECDA) was awarded the Healthy Homes Production grant from the Federal Department of Housing and Urban Development (HUD) in 2022. This program is intended to keep families healthy and safe from potential hazards in their home. HUD is always committed to provide sustainable housing to protect children and families. With this grant, the ECDA team is able to provide the Kankakee community with funding to address concerns including: mold, lead, allergens, asthma, carbon monoxide, radon, and home safety. It also gives property owners the opportunity to have their properties inspected for those hazards.
Part of having a healthy home is maintaining a healthy home. Here is a helpful chart to use at home to make sure you are keeping it safe:
The Healthy Homes Program has a goal to educate people about the hazards of lead-based paint and home safety. Once a household is found to be eligible, the ECDA team complete and inspection and will create an approach to eliminate those identified hazards. We encourage the community to apply to see if you qualify and how we can provide you the most assistance from our programs provided by HUD.
If you are interested in filling out a pre-application form to see if you are eligible, visit our office or click the link to fill out online https://ecda.citykankakee-il.gov/pre-application.php.
---
El blog de este mes nos llega de nuestra encargada del Programa de Hogares Saludables, Yorelly!
Junio es el Mes Nacional de Hogares Saludables! La Agencia de Desarrollo Económico y Comunitario de la Ciudad de Kankakee (ECDA) recibió la subvención para la producción de hogares saludables del Departamento Federal de Vivienda y Desarrollo Urbano (HUD) en 2022. Este programa está destinado a mantener a las familias sanas y a salvo de posibles peligros en su hogar. HUD siempre está comprometido a proporcionar viviendas sostenibles para proteger a los niños y las familias. Con esta subvención, el equipo de ECDA puede proporcionar a la comunidad de Kankakee fondos para abordar preocupaciones que incluyen: moho, plomo, alérgenos, asma, monóxido de carbono, radón y seguridad en el hogar. También les da a los propietarios la oportunidad de inspeccionar sus propiedades para detectar esos peligros.
Parte de tener un hogar saludable es mantener un hogar saludable. Aquí hay una tabla útil para usar en casa para asegurarse de mantenerla segura: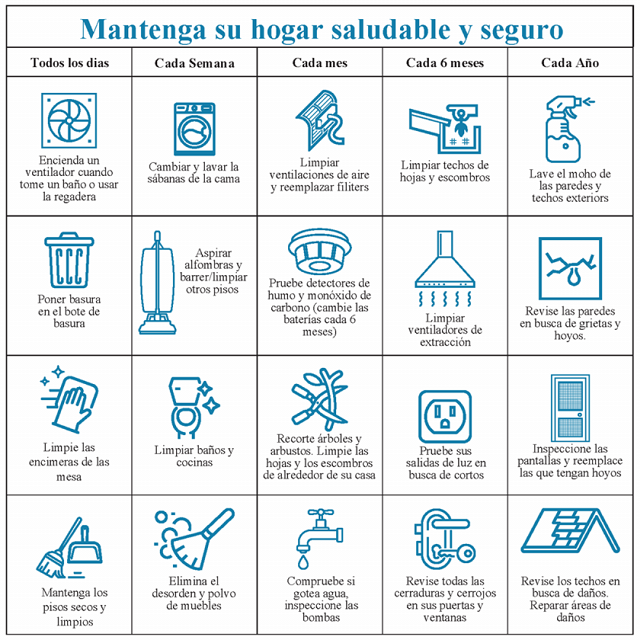 El Programa de Hogares Saludables tiene el objetivo de educar a las personas sobre los peligros de la pintura a base de plomo y la seguridad en el hogar. Una vez que se determina que un hogar es elegible, el equipo de ECDA completa una inspección y creará un enfoque para eliminar los peligros identificados. Alentamos a la comunidad a aplicar con una solicitud para ver si califica y cómo podemos brindarle la mayor asistencia de nuestros programas proporcionados por HUD.
Si está interesado en completar un formulario de presolicitud para ver si es elegible, visite nuestra oficina o haga clic en el enlace para completar en línea https: https://ecda.citykankakee-il.gov/pre-application.php.